The concept of adventure travel has just expanded. Suddenly, the notion of "the journey" transcends boundaries and borders. . . and private vacations are becoming forays into new dimensions and physical realities . . . glimpses of the future — rather than destinations that focus on the past.
Welcome to A&K Space, a new company established by the original purveyors of luxury travel — Abercrombie & Kent. Born in Africa as a safari outfitter in 1962, Abercrombie & Kent's unparalleled travel services have extended to all seven continents around the globe . . . now A&K Space takes it even further.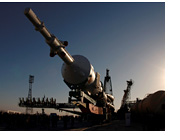 Presented with Abercrombie & Kent's world-renown standards of luxury and privilege in travel, A&K Space offers a stunning and original collection of exclusive space-related journeys in which Earth is (literally or figuratively). . . just the starting point. A&K Space is revolutionary travel, pushing the limits of technology, reinventing adventure and coaxing luxury travel into the next era.
A&K Space is 21st century vacationing. Whether you're an aerospace or aviation aficionado, an adventure seeker who craves the adrenaline rush of Mach speed flight or the weightlessness of a zero gravity experience, or simply a person who is mesmerized by the idea of a manned rocket blasting off on a journey to the International Space Station, A&K Space can turn your dreams into reality.
A&K Space has researched, developed and assembled the most exceptional and safest space-related programs available today.
Begin the countdown to your extreme adventure. Journey to the beyond with A&K Space.